"Baking for Life" Blogger Bake Sale! CLOSED
Hello friends! TODAY IS THE BIG DAY!! The Blogger "Baking for Life" Bake Sale is NOW OPEN!! 
WELCOME!!
Have you been keeping your eye on the donations that have been pouring in over the past two weeks? I hope your sweet tooth is ready to be tantalized! Listed below, there are over 20 treats, foodie gifts, … even personally autographed cookbooks! There are some really fantastic items available here today, and only today – so be sure to get your bid in! The sale will be open from 8 am – 9 pm PST, the last bid will be taken at 9pm PST on the dot (as indicated by the time stamp on the incoming email).  BAKE SALE IS NOW CLOSED! 
Today's bake sale was made possibly by each of the amazing bloggers listed below with their items. Each of these generous souls will be personally mailing you their items, so feel free to visit their blogs and give them a little thank you!
If you missed it, here is Becca & Joel's story, 100% of the proceeds with be going straight to paying for the medical procedure that is necessary to allow them the opportunity to try to have a baby. We are attempting to raise $8,632!!  So with our fingers crossed, we are opening the sale to you, dear bidder, so do your best bidding today!
Before you begin to salivate, please review these rules:
There is a minimum bid of $20 for each item to get us started, and the bids must be in increments of $5, except when noted. Meaning, to win the item, you will have to bid a minimum of $25, and if no one else bids on the item by 9pm PST, you will win it!
NO BIDS LEFT IN THE COMMENT SECTION WILL BE COUNTED! Please submit all bids via email to Alice at

 

acookingmizer(at)yahoo(dot)com. You should include the item #, item title/description, your bid, and your name.
I will update the bid section underneath each item with the current bid and who "holds" the item so you can see the high bids for each item throughout the day.
I will notify the winners via email and they will have until 9pm PST on Friday, Dec 13th to provide a receipt of the donation and mailing address where they would like to receive their item.
Shipping is limited to the USA, except when noted.
For the items that have a "Buy It Now" option listed, all you have to do is email Alice at acookingmizer(at)yahoo(dot)com with

a receipt of the donation

in the "Buy It Now" amount and

shipping address

and you will instantly win the item plus a dozen of my Toasted Coconut Macademia Nut Cookies and a little thank-you from Becca & Joel! 
If you would like to know what the final bids were, I will post the name of the winner and amount of the final bid 

in

red

 

as I receive confirmation of the donation. 

Each winning bidder will receive email instructions on how to make their donation and claim their item. The donations should be made through Becca & Joel's Giving Foward Page.
Winning bidders should expect their item(s) to be shipped by no later than Dec 20th, as long as a shipping address is promptly received along with the donation receipt.
For more details, please review the Rules & Logistics page or simply email your questions to Alice at acookingmizer(at)yahoo(dot)com
The last little note about fundraising amount & donations: Giving Forward & PayPal take a 7.9% fee out of each donation but each donator (that's you) is able to add the extra 7.9% fee to the donation amount to make up the difference if you like, so that Becca & Joel are able to receive the maximum donation amount.
For example, if your final winning bid was for $50, you could add $3.95 (which is 7.9%) for a total donation of $53.95.
Keep up on social media! Check Facebook, Twitter, Pinterest & Google Plus for our hashtags #Baking4Life & #Cookies4Becca ! Let everyone know what you are bidding on, or send your loved one a gentle but panicked nudge to go and bid on your dream Christmas present (it's just around the corner, after all!)
Baker's Choice Mystery Cookies – Minimum Reserve Bid $30!!
Here's the first little surprise!  Make a pledge to donate at least $30 and our lovely couple, Becca & Joel and I will send you a Surprise Mystery Batch of our favorite homemade cookies! We're taking only FIVE Pledges so sign up quickly!! No matter what kind of cookies they are, they're guaranteed to be splendid!
**Pledges must be confirmed with a donation receipt by 7pm PST on Dec 12th via email or the pledge will become available to another person**

PLEDGE #1) Adriana A.!
PLEDGE #2) Cheryll K!
PLEDGE #3) Amanda F!
PLEDGE #4) Bee T!
PLEDGE #5) Alissa F! 
AND… In no particular order,… get ready! ….Set! ….Shop!
ITEM #1) Kelsey, The Naptime Chef has generously donated A Jar of Holiday Hot Fudge! It's perfect for dishing over ice cream, poached fruit, pavolovas or more – there's no limit to creative uses for Holiday Hot Fudge!
CURRENT BID: $25 from Alissa F!
BUY IT NOW! OPTION: $100

ITEM #2) Ho! Ho! Ho! Bake like Mrs. Clause in this adorable Christmas Mrs. Clause Apron, donated by Christine at Cook the Story! This is sure to take your holiday baking to the next level and jazz up all the time we spend in the kitchen baking and cooking this time of year!
CURRENT BID: $25 from Valerie W! 
BUY IT NOW! OPTION: $100

ITEM #3) Liesl at Liesl Made has generously donated one pair of matching, handmade cotton Pot Holders! They have a purple lining and delightfully foodie design, making them a perfect addition to any kitchen!
CURRENT BID: $30 from Emily C!
BUY IT NOW! OPTION: $100

ITEM #4) The New York Times proclaimed "Culinary Guru," Dorie Greenspan has generously donated an autographed copy of her cookook, "Baking: From My Home to Yours" for one lucky person this holiday season! There are endlessly delicious recipes in this book and many, many recipes you will want to make again and again – perfect for the baker in your life,…. you know the one.
CURRENT BID: $55 from Valerie W!
BUY IT NOW! OPTION: $500

ITEM #5) Julie from Smokin' Pete's BBQ has generously donated an autographed copy of "She-Smoke: A Backyard BBQ Book," a jar of Smokin' Pete's BBQ Spice Rub and a jar of their famous, finger-lickin' good "Hot-n-Spicy Pickles!" These are the talk of Seattle and perfect for any BBQ, especially a She-BBQ-er!
CURRENT BID: $45 from Karen P!
BUY IT NOW! OPTION: $100

ITEM #6) Carolyn from All Day I Dream About Food has generously donated 2-1/2 dozen Coconut Chocolate Chip Cookies! These are gluten-free and low-carb and the winner can also have them made Paleo-friendly! These cookies are possibly the world's first World Peace cookies – "there is no doubt in my mind that your lives would be vastly improved by [these].  Everyone's lives would be vastly improved.  We would all be happier, healthier, stronger, fitter, faster, calmer, and kinder, […] wars would cease and the world would be at peace [if everyone were able to enjoy these low-carb, gluten-free cookies]!"
CURRENT BID: $30 from Sharon S
BUY IT NOW! OPTION: $100

ITEM #7) Geri From My Southwest Kitchen has lovingly baked two dozen Red Velvet Crinkle Cookies, perfect for a snowy winter day and Christmas! Packed with chocolately goodness!
CURRENT BID: $25 from Ellie W! 
BUY IT NOW! OPTION: $100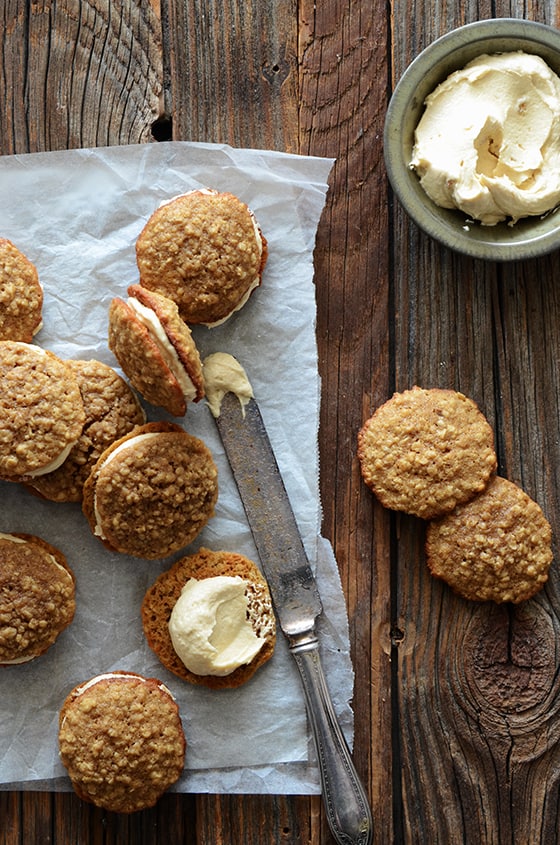 ITEM #8) Faith of An Edible Mosaic has lovingly created one dozen Oatmeal Cream Pies with Rum-Raisin Brown Sugar Buttercream Frosting to delight your tastebuds! The frosting will be made vegan so it will travel well from her kitchen to yours! These iconic treats are ones not to be missed!
CURRENT BID: $$30 from Robyn C! 
BUY IT NOW! OPTION: $100

ITEM # 9) Elise of Cooking with Elise has put some of her delicious Spiced Carrot Marmalade in a jar for you! You can find the recipe for this savory marmalade in your signed copy of her cookbook "You Never Cook Alone" which is all about cooking with and for your family!
CURRENT BID: $40
BUY IT NOW! OPTION: $100

ITEM #10) Jennie of Fork & Swoon is donating a signed copy of her book, "Farmers' Market Desserts,"  the perfect cookbook & guide for those folks that love to buy local and come home from the farmers' markets with more delectable fruits & veg than they know what they will do with!
CURRENT BID: $35 from Valerie W!
BUY IT NOW! OPTION: $100 

ITEM #11) Liz of That Skinny Chick Can Bake is baking off two dozen Caramel Biscoff Blossoms especially for you! These are just a delightful addition to any Christmas celebration!
CURRENT BID: $50 from Bill!
**Our apologies, there is no "Buy It Now" option available for this item**

ITEM #12) Nancy of Gotta Get Baked is donating a fabulous cookbook bundle which includes the following four cookbooks!
Bite Me by Julie Albert & Lisa Gnat
The Main Recipes by Anthony Sedlak
Passion & Palate by John Howie
The Pasta Bible by Jeni Wright
Perfect for anyone that enjoys cooking for their family – or even just themselves!
CURRENT BID: $50
BUY IT NOW! OPTION: $100

ITEM #13) Brittany, the Modern Mrs. Cleaver is whipping up a double batch of Colassal Chocolate Sea Salt Cookies! Is there a chocolate lover in your life? Maybe it's you! Who doesn't enjoy one ENORMOUS cookie to indulge in? What an indulgent, chocolatey treat!
CURRENT BID: $30 from Lynda W.!
BUY IT NOW! OPTION: $100

ITEM #14) Carly of NakedCarly Art has created an entrancing mixed media piece titled "Explore" to delight and intrigue anyone who sees it! It is an 8in X 8in mixed media collage on primed canvas with a UV protective coating.
*will ship to APO addresses
CURRENT BID: $50 from Karen S! 
BUY IT NOW! OPTION: $100
ITEM #15) Carrie, THE Poet in the Pantry, is carefully baking a batch of Gingerbread Spice Biscotti! What is more perfect and timeless than cozy-ing up to your loved ones on the sofa with a hot cup of joe or cocoa and watching the snow falling outside or the latest show or classic Christmas movie on TV? This biscotti will make the perfect little treat for just such an occasion!
CURRENT BID: $30 from Amanda F.!
BUY IT NOW! OPTION: $100

ITEM #16) Lindsay of Itz Linz may be enveloped in a sweet cloud of powdered sugar, but that won't stop her from getting two dozen of these melt-in-your-mouth Fudge Crinkles from her kitchen to yours!
CURRENT BID: $30 from Amanda F!
BUY IT NOW! OPTION: $100 

ITEM #17) Renee of Renee's Kitchen Adventures recently came across this delightful cookbook, "Sprinkles! Recipes & Ideas for Rainbowlicioius Desserts" by Jackie Alpers, all about sprinkles! You can use them in so many ways and this book will even show you how to make your own – how fabulous is that?
CURRENT BID: $30 
BUY IT NOW! OPTION: $100

ITEM #18) Jennifer, the Foodie Patootie, has gathered together great two cookbooks that are sure to keep you baking all year! They are, "Marshmallow Madness" by Shauna Server & "On a Stick: 80 Party Perfect Recipes" by Matt Armendariz. Who doesn't enjoy the ease of eating something on a stick? Or making their own marshmallows to create new S'mores with??
CURRENT BID: $30
BUY IT NOW! OPTION: $100

ITEM #19) Nettie from More or Less Cooking Blog will be sending to you (and your socks) two dozen Knock Your Socks Off Brownies (socks not included)! It's a Pioneer Woman recipe that is guaranteed to make your taste buds DANCE!!
CURRENT BID: $25 from Cheryll K!
BUY IT NOW! OPTION: $100 

ITEM #20) Cher of The Not So Exciting Adventures of a Dabbler has put together a little box of her favorite things for you! A Penzeys Spices Baker Assortment Gift Box! This includes a 1.7 oz jar of Baking Spice, 1.7 oz jar of Tung Hing Ground Cinnamon, 2.1 oz jar of Natural High Fat Cocoa, several whole cinnamon sticks and one whole nutmeg. What could make baking more delicious than fresh & fragrant spices like this?
CURRENT BID: $45 from Valerie W! 
BUY IT NOW! OPTION: $100

ITEM #21) Christy of Confessions of a Culinary Diva has bundled two of her favorite things for you! A copy of the cookbook, "Melt: The Art of Macaroni & Cheese" by Stephanie Stiavetti & Garret McChord and two dozen of her Oatmeal Peanut Butter Date Cookies! These are sure to have you confessing your love for all things cheesy & sweet!
CURRENT BID: $40 from Gigi C!
BUY IT NOW! OPTION: $100 

ITEM #22) Danielle of It's A Harleyyy Life has whipped up two dozen of her dreamy Soft Pumpkin Chocolate Chip Cookies! It's a perfect cookie for this holiday season and my preferred post-workout snack, even though I should probably be eating a carrot…!
CURRENT BID: $25 from Cheryll K!
BUY IT NOW! OPTION: $100

ITEM #23) Sarah of Bombshell Bling is bringing to the table, a loaf of Heirloom Pumpkin Loaf! It's sure to remind you of Mom. Ask Sarah how to prepare a warm mug of Choffy to enjoy with each tender slice of this perfect loaf!
CURRENT BID: $30 from Lynda W.!
BUY IT NOW! OPTION: $100

ITEM # 24) Tracy who can be found at "My Other City by the Bay" is delicately preparing two dozen Limoncello cookies! How gorgeous are these? They are sure to transport you straight to Italy, on a warm summer's evening on the beach, eating a plate of something delicious while sipping limoncello with your lover!
CURRENT BID: $25 from Cheryll K!
BUY IT NOW! OPTION: $100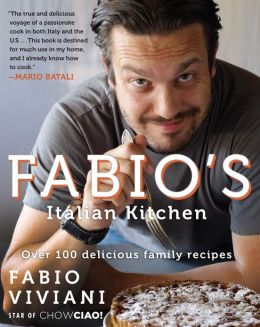 ITEM #25) Frank from Goin' for Seconds has in his possession an autographed copy of Top Chef Fabio Viviani's Cookbook "Fabio's Italian Kitchen" that he is willing to part with for one of you lucky souls, go ahead, bid on it! You know you want to….!
CURRENT BID: $55 from Alissa F!
BUY IT NOW! OPTION: $200

ITEM #26) Chae of Bird Hearts Bear has hand-picked the apples that she has lovingly transformed into a quart-jar full of Homemade Apple Pie goodness for you! Taking all the hard work out of making apple pie, all you need is a pie crust, pie tin and an oven (maybe even a little vanilla ice cream) to enjoy these juicy fall Washington apples in your winter home! This is just enough filling to make one 9 inch pie.
CURRENT BID: $25 from Cheryll K! 
BUY IT NOW! OPTION: $100

ITEM #27) Lindsay of Cotter Crunch has teamed up with her husband to create these fabulous Healthy Bites boxes. They are the perfect pre-workout & post-workout snack, depending on the flavor that you choose. Each flavor is unique in taste and function and are made of all-natural, gluten-free and organic ingredients which means only wholesome goodness going in!
The winning bid will have the choice of receiving an assortment of one dozen Healthy Bites or the "Healthy Bites: Grab. Nosh. Nourish." E-book that contains 13 unique recipes for a variety of Healthy Bites that you can make over and over again!
CURRENT BID: $30 from Joel W.
BUY IT NOW! OPTION: $100
Here are some of the flavors you might receive!
Apple/peach/apricot Cinnamon Vanilla is also known as the "fuel bite." It is perfect for a pre-workout energy boost to start the metabolism running and give you those extra carbohydrates you need. It is made with dried apple, apricots, and/or peach, almonds, organic peanut butter, GF cereal/granola, honey, and cinnamon.
Muddy Buddy Mocha Bite is just like a muddy buddy, but gluten free and with a kick (coffee). Peanut butter, GF/dairy free chocolate chips, GF cocoa cereal, protein, and coffee. Perfect post workout too!
Whey Good is also known as our "recovery bite." This is the perfect post-workout snack because it offers a nice ratio of carbohydrates to protein to aid in the repair of muscle and tissue breakdown from exercise. It is also a healthy alternative for people looking to increase the amount of protein in their diets. It is made with all-natural protein powder (with Stevia), almond butter, almonds, dried banana, and honey. (can also substitute a plant protein or egg white protein for an extra $2 per dozen)
Cookie Dough is also known as our "goodie bite." This is a perfect sweet bite that won't ruin your hard work. Everyone needs a little treat and these bites fit the bill. But surprise…they are healthy! They are made with Organic natural peanut butter, gluten-free chocolate chips, vanilla protein, honey, and almonds.MINT chocolate chip is also available

Thanks for stopping by! Don't forget to check back in periodically to make sure your bid remains the highest! Share this bake sale with all your friends & family, any of these items would make for some really fantastic Christmas gifts!