Ginger Explosion Cookies from Drury Lane….
That was the name I gave to my new cookie creation that I baked up dozens upon dozens of both for the Great Food Blogger Cookie Swap as well as for Mei's class at school! It just felt right… and it reminds me so fondly of the gingerbread man in Shrek – both the cookie & the reference!
This was the first year of participating in the Great Food Blogger Cookie Swap and it won't be the last! The girls had a blast helping me mix and whisk and "test" the cookies and putting them in bags & boxes for distribution.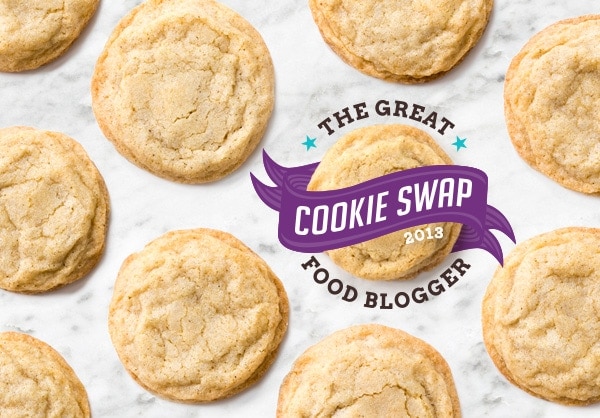 Finding a suitable box to mail them away in was a bit more tricky. I'm sure I managed to find the LARGEST box of all the bloggers that participated. I even returned to the store twice to find a more suitable box. Apparently, I'm terrible at figuring out what the dimensions really mean… go figure. LOL! In the end, I wound up adding balls of newspaper under the fancy red tissue paper that lined the "bottom" of the box that the cookies went in plus more around the outside of the box once it was in the shipping box so that it didnt get knocked around too much… that's a lot of boxes right???
I was very impressed with the clever packaging of the cookies that we received however and the girls certainly enjoyed unpacking each box and voraciously tearing through the cute ribbons, tags and business cards to go straight for the GOLD! COOKIES!!! They have never been so excited about mail before (kinda a little white lie…they both race to check the mailbox each day) they realized they could also get "cookies in the post" (as we refer to it here).
Our house smelled like chocolate and ginger for days and each morning, the girls would wake up and race each other to the kitchen, ditching their usual yogurt and banana for one Ginger Explosion Cookie in each hand then racing back to the sofa for their morning cartoons while screaming "don't forget my milk, mom!" Thanks girls. If I hadn't felt like I had played Freaky Friday with a cow before when they were younger, I was certainly having flashbacks now.
But they loved every bite and when they would get to a bit of candied ginger, you would hear giggling and "MOM! MORE GOLD!" and lots more chomping. All the crumbs I swept up day after day until the cookies were gone were well worth the enjoyment that my kiddos got from these cookies!
Essentially, it is a molasses cookie that I have added loads of ginger to and a little bit of chocolate. For me, ginger is a bit of a scary thing. Too much and it brings quite a bit of heat and a pop of flavor, too little and what's the point? I think I hit the mark with the balance but I could put a bit more candied ginger or cut them up a bit bigger so they are easier to notice next time.
I sure hope the three lucky gals that received my cookies enjoyed them as much as we did! This is quickly becoming another Christmas "must-bake" cookie!
Scroll to the end for the recipe! Read on to find out what cookies we ate and who baked them for us!
The first batch of cookies we opened were from Trudy over at Chocolate Castles, they were a chocolate thumbprint button with festive red and green sprinkles and a bit of red jam in the center. They were tender and amazing! Emily quite happily took one small bite, finished that then shoved the rest in and sat gleefully eating her cookie in complete bliss while she watched Mei carefully dip her finger into the jammy center and proceed to slowly lick the jam clean out of the cookie, then start in on the sprinkles, a couple at a time  until they were all gone, then offered the rest of the remaining cookie, err… crumbs, to her sister – which she took gratefully shoving it in her little mouth.  Isn't it lovely how happy two little girls could be over cookies in the mail from a stranger? We have since run out of them and they have been begging me to make more, so Trudy…. we can't wait to get the recipe from you today!
There was another little happy surprise in the box from Trudy. At first I didn't pay much attention to it since I was stopping two very happy girls from inhaling cookies by the second and couldn't figure out what this little package was with a stick, sticking out of it was so I put it to the side for later examination. Once the girls had fallen into a much quieter, post-cookie coma, I had the chance to release the ribbon and reveal the contents…. a little thumbprint maker!!
Check this out, it is really cool everybody! Its a perfectly sized little wooden ball attached to a dowel rod and it literally makes the perfect thumbprints! How flippin' cool is that?? In the past I have used the push part from push pops, the ends of my larger wooden spoons, finagled some funky way of depressing prints with a small teaspoon, trying to use my actual thumb (it hurt btw since the cookies were hot and I only made through one cookie before conceding that the idea was not so bright in conception and certainly not a great one to continue on with…) so this is going to make future thumbprint cookie-making of all kinds so much easier! Every time I use it, I will remember the delightfully intelligent soul who sent this to me… such a gift!
The second box we opened was the largest of the boxes we received and contained a large Mason jar from Anisa of Whisk & Heels. My girls were completely taken with the jar – whether it was due to the fact that they couldn't just tear into the jar or what, it instantly became a source of "MOM! OPEN this please!" from Mei and Emily gave it a good "Appy! Appy!" which translates to "Open! Open!" as I quickly unscrewed the lid and pulled out some foil wrapped Soft, Pumpkin Crinkles! 
I was pleasantly surprised at the seasonality of the cookies and since we had skipped Thanksgiving at our house this year, this was the first pumpkin-something that we had enjoyed and what a way to do it! These were pillowy and amazing and I'm eating one right now… the last one, actually, before my kiddos wake up and catch me! It's like a perfectly spiced pumpkin pie in a cookie…. dreamy!
What I'm left with is a fun jar, a bit of ribbon that my girls have claimed as their own, a lovely recipe and plenty of pumpkin goodness – you hit the mark Anisa! All those batches weren't for naught! I'm glad you kept baking!
The third and last box we opened was from Ashley at Savvy Table. Mei was taking a little nap so Patella, Emily and I fielded this one together. Inside, we found two little cardboard boxes tied with red and white bakers twine with a little tag that read "Smokey Mountain Snowcaps" (contains walnuts). Instantly, it had me intrigued!
I had to know what the smokey element was…. my mind instantly turned to smoked salts. I had no idea what to expect from this little gem. As it turns out, the smokey was the powdered sugar on top of a little drop cookie that looked like a mountain top with it craggy walnut bits protruding out of them…. amazing. These were melt-in-your-mouth yummy and had so much flavor! I'd like to claim that I still have some left to share with my husband (he returns from a business trip tomorrow), but instead, I will be frantically baking a batch (or two) of these later today after I get the recipe from Ashley. Brilliant. These were amazing! Emily didn't like them as much as the thumbprints so there was more for me to enjoy… lovely….! Try these with a cup of tea. Ahhh….
I have to say this was a pretty good experience and I have certainly gotten some neat ideas for packaging on next year's cookies and already can't wait for next December! And one dozen is such a tease… I might just have to include two dozen next year of my creations and I certainly won't forget to include the recipe because waiting for the recipe is almost assuredly cookie-torture…! 😀
For any of the recipes to the cookies mentioned above, please follow the links through the name of each blog to the appropriate post! Just scroll on a bit further for the recipe for my Ginger Explosion Cookies from Drury Lane!
**It should be noted that the photos of the cookies have been borrowed from their creators since we carelessly ate up all the cookies before we could get a decent photo of them…!**
INGREDIENTS: yields two dozen cookies
1/2 C butter softened
1 C sugar
1/4 C molasses
2 tsp balsamic vinegar
1 tsp vanilla extract
1/4 C dutch-process cocoa powder
1-1/2 tsp baking soda
1/4 tsp salt
1 tsp ground ginger
1/2 tsp ground cinnamon
1/4 tsp ground cloves
1/4 tsp black pepper
2 C all-purpose flour
1/3 C semi-sweet chocolate chips
1/3 C coarsely chopped crystallized ginger
1/3 C coarse, raw sugar (for rolling)
In a bowl, cream the butter and sugar for 2-3 minutes until the mixture is light and fluffy.
Add the eggs, one at a time, mixing until just combined. Then add the molasses, vinegar and vanilla – mixing well.
In a separate bowl, combine all the dry ingredients.
Slowly add the dry ingredients to the wet ingredients, mixing until just incorporated.
Gently fold in the chocolate chips and ginger pieces into the dough. Refrigerate for at least a half hour if your dough is sticky and a bit loose.
Preheat the oven to 375F and line baking sheets with parchment paper. Put the coarse sugar in a shallow, wide bowl.
Roll into one inch balls, then roll each ball in the coarse sugar and place on a parchment lined baking sheet about two inches apart. Bake for 8-10 minutes until the edges darken slightly.
*It is hard to tell when a dark cookie is ready, mine were done at 8 minutes, they were a little too tender to be pulled off the baking sheet until they had rested for ten minutes then transferred to a cooling rack, but they were softer than when I had baked them for ten minutes.
Let cool on the baking sheet for ten minutes before transferring them to a cooling rack.
Enjoy!