Urbanspoon Dine-Around at IFBC Seattle
I have many, MANY things to write about the International Food Bloggers Conference that I attended last week in Seattle but the one that is first and foremost on my mind is the Urbanspoon Dine-Around Dinner that was planned for Saturday night.
For all those people that attended the conference and chose not to go to the Urbanspoon event, you missed something truly fabulous and I hope you can fit it into your plans for next year's IFBC! The idea behind this dinner was that a company called Urbanspoon had arranged for each conference attendee to dine at a Seattle restaurant for a tasting menu but the actual restaurant would be kept a surprise until the diners arrived on location.
WHaaaattt???!
A surprise dinner for a bunch of foodie bloggers??!
I WAS IN!
The conference was buzzing all Saturday with the names of all the Seattle restaurants that people could think of and their locations and trying to see if the location that was printed on the back of their name tag could possibly lead them to a fabulous new restaurant that they wanted to try or even a new restaurant they hadn't heard of to try something satiating. And of course, fabulous.
Being a Seattle-ite, I knew a few of the restaurant names and locations and was pleased to have one that I hadn't heard of nor dined at before and I was set! I was so giddy with excitement for that evening's meals, and was lucky enough to have a friend to go with me, Cher of "The Not So Exciting Adventures of a Dabbler" to a dinner that my husband (and hers) would probably be disappointed at the size each portion or cost of each plate. I'm sure it annoyed Cher to no-end, but I managed to keep the name of the restaurant and the menu, once we arrived a complete surprise for myself! The menu was provided on the table so you could see what was going to be served, but keeping in the spirit of the secrecy of the Urbanspoon Dine-Around, I only heard little snippets of conversation about the different courses and found out what each course was as it was being served.
Each course tested my palate in a different way and each course left me wanting to lick the plate clean. Although by the time the third course had arrived with the fourth glass of wine, we were all starting to slow down a bit and take the meal in stride. L-O-N-G, S-L-O-W strides with less grace than a marathon runner.
Oh, were you wanting to know about the food?? We were dropped off at Re:public (429 WESTLAKE AVENUE N., SEATTLE, WA 98109), an excellent, excellent restaurant where we were greeted by our host, Stacy Paczan and our waitress and sommelier, Ashley Sinko who seated us straight away and made us all feel right at home. Cher and I greeted our fellow diners, Julie of She-Smoke, (that) Ryan of The Spinning Cook, Rachel of Runners Tales, Mike of Semi-Sweet Designs, (this) Ryan of Seafoodie and our Urbanspoon Host Kenn Fung.
The evening started off with a shot, literally, of the best corn soup you have ever had. Period. We all agreed the meal could have ended right there, just a big ole bowl of that perfectly creamy corn soup and toasted pepitas. Life could be simple. Life is SO delicious.
Secret? I tipped my shot glass to gather any stray dribbles of corn soup and get one last taste before we received our next course.
Another secret? I was so not alone. There were a couple people at the table that may or may not have licked the inside of their shot glass.
**Forgive any of the photography that looks like there was a flashlight app being used, or anything that is over or under exposed…. we were much more focused eating the food than photographing it**
Fried sardines are going to become a staple at our house. Or even just grilled, forget the fried. I love sardines! I think all the talk about sardines on pizza during my childhood put me off of them, but it turns out I have been eating sardines for as long as I could remember! And this Fried Sardine dish over a Rataouille with Shaved Fennel & Dill was perfect! Along with a couple other table-mates, I found the dill and fennel to be quite pleasing and lacking the sharp anise taste that is too often associated with it. A perfect second course. It was paired with the Spanish Lolo 2011 Albarino: Rias Baixas, which I found paired well but alone, I didn't care for it as much as I did with the sardine. But then I'm not much for reds.
For the third course, we had a Compressed Heirloom Melon with basil, Marcona almonds and Hot Coppa. How do you get an heirloom melon? I love it! But my favorite part of this dish was the hot coppa, which was cleverly shaped as a rose and I have a tender spot in my heart for any foods shaped into roses. I imagine this fad will die out like the sprig of curly parsley that was a staple on every plate in America for so many years.
Next was the Tagliarini with Chanterelle & Maitake Mushrooms: Black Garlic, Dungeness Crab and Parmesean. WOW. This was really rich but oh, so tasty! It was at this point in the meal where I started wanting a take-away box for all the bits I couldn't finish. Seriously. This was good stuff.
The last two dishes were paired with the Italian Giovanna Manci 2011 Pinto Grigio. This was a dry wine for me but still a very nice pairing.
Quail anyone? This was my first experience eating quail and I found it a little cumbersome. Eating it with a knife and fork proved more fastidious than I care to admit, making me long for more familiar faces at the table so no one would care if I just picked up a wing and cleaned it down to the bone. The quail was served with savoy cabbage (a personal favorite of all the cabbages), fried farro and roasted apricot. With certainty, I have pinpointed roasted fruits paired with a light gravy and my favorite protein to be a MUST from this point on. The apricot and quail melted together to create a beautiful bite and the fried farro had my taste buds excited and longing for more.
I actually asked for a take-away box after this course and the host looked at me with a great big smile on her face and said, "Of course!" Inside, I just melted. Fantastic, a treat for the ride home and I HAD to study these delectable morsels of fried farro! Thankfully, the sous chef, Keiko Okuda was willing to share her secret with us, and I will be trying my hand at frying farro with the packet of it that was provided to us by Bob's Red Mill. A new grain to add to my repertoire!
DUN, DUN, DUN!!! Scary course next!! The sweetbreads!! It was served with a dijon aioli, shaved celery and pickled turnips.
My friend Cher (from Adventures of a Dabbler) and I were especially nervous for this course to come about, but acted cool as cucumbers when it arrived and for the entire first bite…
IT WAS AMAZING!!
It did taste a bit like offal, if you didn't know what the course was and put a piece in your mouth, you might think chicken? But with a slight aftertaste that would have you wondering until you dipped a bit in the aioli?? This dish needed to be served with a pot of french fries!! I just wanted to the secret aioli recipe… man. That was good stuff! I thanked the chef for this particular course, it was one I was a bit hesitant about but one that I'm certain I wont return to Re:public without ordering. Wait, is it even on the menu??
(don't worry, I had this one put in a box too – with a bit of extra aioli, compliments of the chef!)
The quail and sweetbreads course was paired with the Andrieux & Fils 2011 Grenache/Syrah from Gigondas, France. Still a bit too dry for my taste but I haven't been disappointed in the pairings all night!
The very last course was the Burrata with fig marmalade, crostini and chicory salad. I never made it to the chicory salad. It is something that I only had one, chicory, and wasn't too thrilled with but I had fully intended to taste it at least but just filled up on the burrata. WOW. That's some good stuff right there. I had a bit of burrata at the Friday evening reception and at Saturday's lunch and all I know is that burrata is a new go-to cheese. For certain! Paired with the La Braccesca Sangiovese: Vino Nobile di Montepulciano? Un parcours parfait!
"Would you like to try the port or coffee with dessert?" Our waitress and host asked as they prepared to bring the last course.
Man. Who are they kidding here? I just really got back to drinking alcohol after having two babies and not so much as a "real" drink in nearly three years and I wasn't sure I could take any more wine… much less port? Oh boy. I had my handmade chocolates by Dolcetta with a chilly glass of milk.
Oh yeah, I took the odd looks and giggles that headed my direction after that but I'm certain my chocolates with toasted coconut, salted caramel and vanilla bean tasted the best with the milk. A perfect and refreshing way to end the meal! Our host, Kenn Fung from Urbanspoon even tweeted my photo, including milk mustache that you can't see (of course… ) from the end of our meal. Hello #tipsy tweets!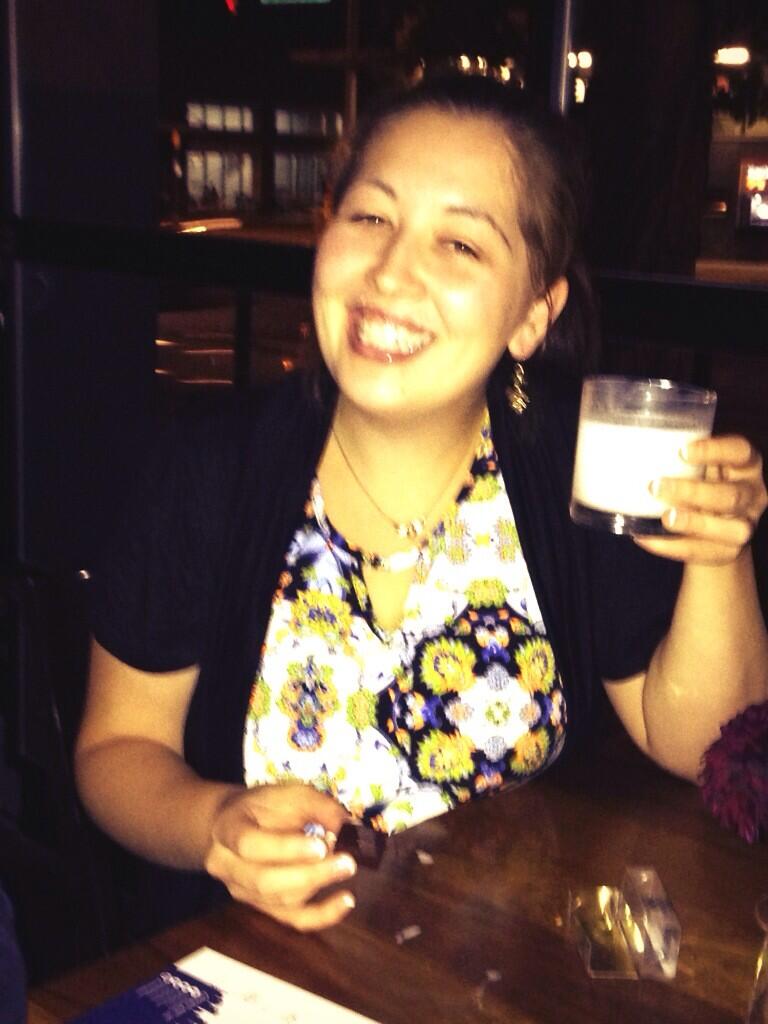 I tucked my two boxes of delicious bites in my bag and jumped in a cab with my fellow tablemates to get back to the W Hotel and end our incredibly late but bountiful evening. We were all walking a bit more slowly and at a slight angle – that may have been Seattle's hills or it could just be my tipsy perception… what a perfect night!
When I returned home, a couple of my family members woke up to nom on the aioli and farro with me…. nothing better than some late night aioli and farro! I'm not sure they understood it or loved it the same way I did but they were eager to hear all about the dinner!
Disclaimer: The Urbanspoon Dine-Around Dinner Event was planned and hosted by the 2013 IFBC Conference, I don't have any relationship with the restaurant and didn't receive any monetary compensation for this post. However, I am mentioning IFBC & Urbanspoon to take advantage of a discounted registration fee for the conference.