Have you heard of the Crab Pot? Its a fabulous restaurant in Seattle that we really enjoy eating at. Basically they are known for a seafood boil that is outta this world! It is a combination of shrimp, mussels, four types of crab legs, corn and potatoes and it is worth every cent!
The ambiance of the place is open, right on the water and there are long, wooden tables with big, steel mixing bowls strategically placed at the foot of the tables, butcher paper laid over the table and your hot, steaming seafood boil sprinkled across the table so that everyone just grabs what they want and dig in!
Each person is given a bib, mallet and a board to crack your crab legs on. At the height of the summer when the crabs are the tastiest, there are four different types of crab legs that can included in your boil along with the mainstays and it offers a great, interactive type meal. Everyone gets their hands messy cracking open legs and dunking the meat in hot melted butter, sucking up shrimp and mussels, snapping corn off the cob and grabbing the occasional bit of crusty sourdough bread. Honestly, if you love seafood you can't dislike this restaurant!
The menus have delightful cartoon drawings in them, making the place even cuter and more fun to eat at. Plus it just tugs on my ole heartstrings to see such inviting cartoon drawings. What can I say, I'm susceptible to art.
The only problem is the distance we would have to travel from England to have dinner – so I decided to rectify that and make it at home!
Luckily, I was able to go to the market on a day where their crabs weren't sold out!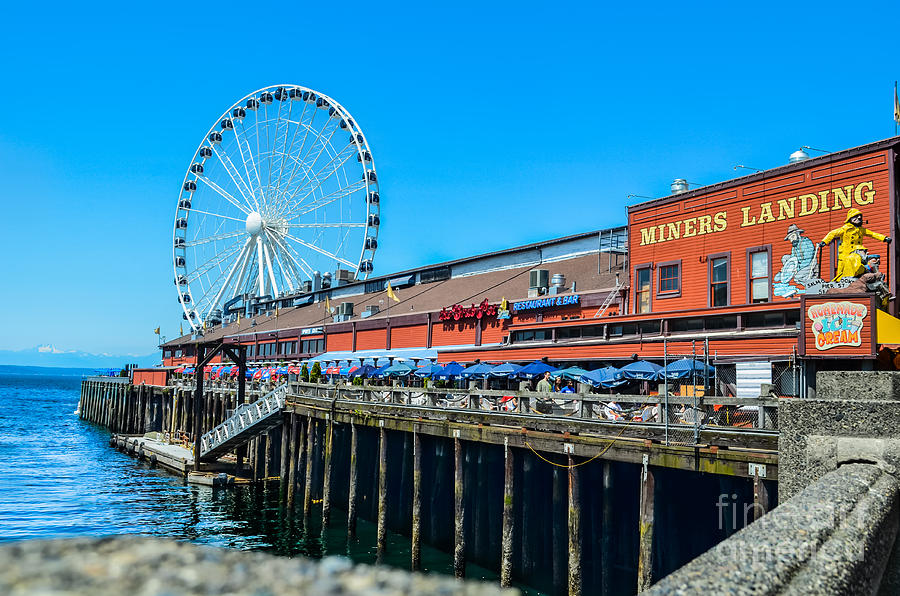 In fact, we managed to find the best deals on them so I wound up buying four for less than $10! I knew that we would want more than just the crabs and I remembered that we had been talking about doing a seafood boil for a long time so I went ahead and picked up all the rest of bits we needed to do that – potatoes, corn, sausage & shrimp. The mussels weren't looking too good, so we just left those out.
This is a meal that comes together incredibly quickly because everything is just steamed together then it is done!
The only hang-up is that we dont have a steaming basket large enough to hold everything at once or all the corn or all the potatoes, so instead, we quickly boiled most everything until it was just done then tossed it all together with a little salt, pepper and Old Bay seasoning.
To keep with the spirit of our favorite restaurant, we divided everything into two big mixing bowls and made up a little plate for Mei, and sat down to eat. All the seafood was moist and fresh, the corn sweet and crunchy, the potatoes were velvety and fluffy, sausage just a bit spicy and the crab & shrimp were cooked to perfection. It was a great meal and one that we certainly don't get to enjoy often, but we will easily have again if we can get the crabs for nearly as good a price.
If you haven't had a seafood boil yet, the next time you are on the coast, look into a place to have one – they are straight outta this world! Although, if you can't wait –  try this recipe at home today!
Ingredients:
Crab. As much as you like! Two crabs per person seem to give the best serving size if you have whole crabs. If you are using just the legs then you might want roughly 3-4 crabs per person.
Shrimp. You want to get these with the head on and as big as you can get them
Corn on the cob, cut into manageable parts. We opt to cut ours in thirds. At least one or two per person
1.5 – 2 lbs of Sausage. Traditionally, andouille sausage is used but it is next to impossible to find here so we use chorizo and it works great!
~ 2 lbs of Mussels. Fresh, scrubbed and de-bearded of course
~ 1 lb of Baby Red potatoes, scrubbed then either halved or quartered
Old Bay seasoning
salt & pepper
clarified butter for serving
butter for melting onto your corn and potatoes, if you like & lemon wedges, if desired
Bring water to a boil in a large stock pot fitted with a steaming tray. Make sure the water goes halfway up to the steamer tray but does not touch it. Once it has come to a boil, toss in the potatoes & corn then cover and steam for about  three minutes.
Open and toss in the rest of the ingredients, cover and cook for a few more minutes until the potatoes have cooked through, the shrimp shells have turned  a rosy red color and the color of the crab shells have intensified and brightened.
Remove from the steamer and toss in a large mixing bowl with Old Bay, salt and pepper to taste.
If you do not have a steamer tray that can accomodate all of your meal or your meal in parts, then bring a large pot of water to a boil. Once the water has reached a boil, drop in your potatoes and cook them just until a knife inserted in one of the larger sections just cuts through it. Remove immediately and put in a large mixing bowl, tossing with salt and pepper to taste.
In the same pot of boiling water, cook the corn. Remove once cooked and brush with melted butter (if desired) and toss with the potatoes.
Cook the sausage just for minute or two to heat up, remove and toss with the corn and potatoes. Put the mussels in, covering and cooking for about five minutes or until most all of the shells pop open, remove and toss with the potato mixutre. Then dunk in the crab legs and cook just until cooked through. Remove and toss with everything else. Add as much Old Bay seasoning as you would like and make sure to thoroughly toss everything so that each bit is seasoned.
Serve with crusty sourdough bread, melted & clarified butter and lemon wedges and eat while hot!